Own a piece of the future.
Be a patron of TinkerSpace by TinkerHub Foundation.
TinkerSpace came into existence in December 2022. We established this modern high-tech-driven space in Kochi, keeping in mind the need of our TinkerHub Foundation (THF) and tech community members to meet and collaborate! It is open to anyone who wants to discuss ideas around technology, contributes to open source, collaborates on side projects, meets others and shares with them the passion for innovation.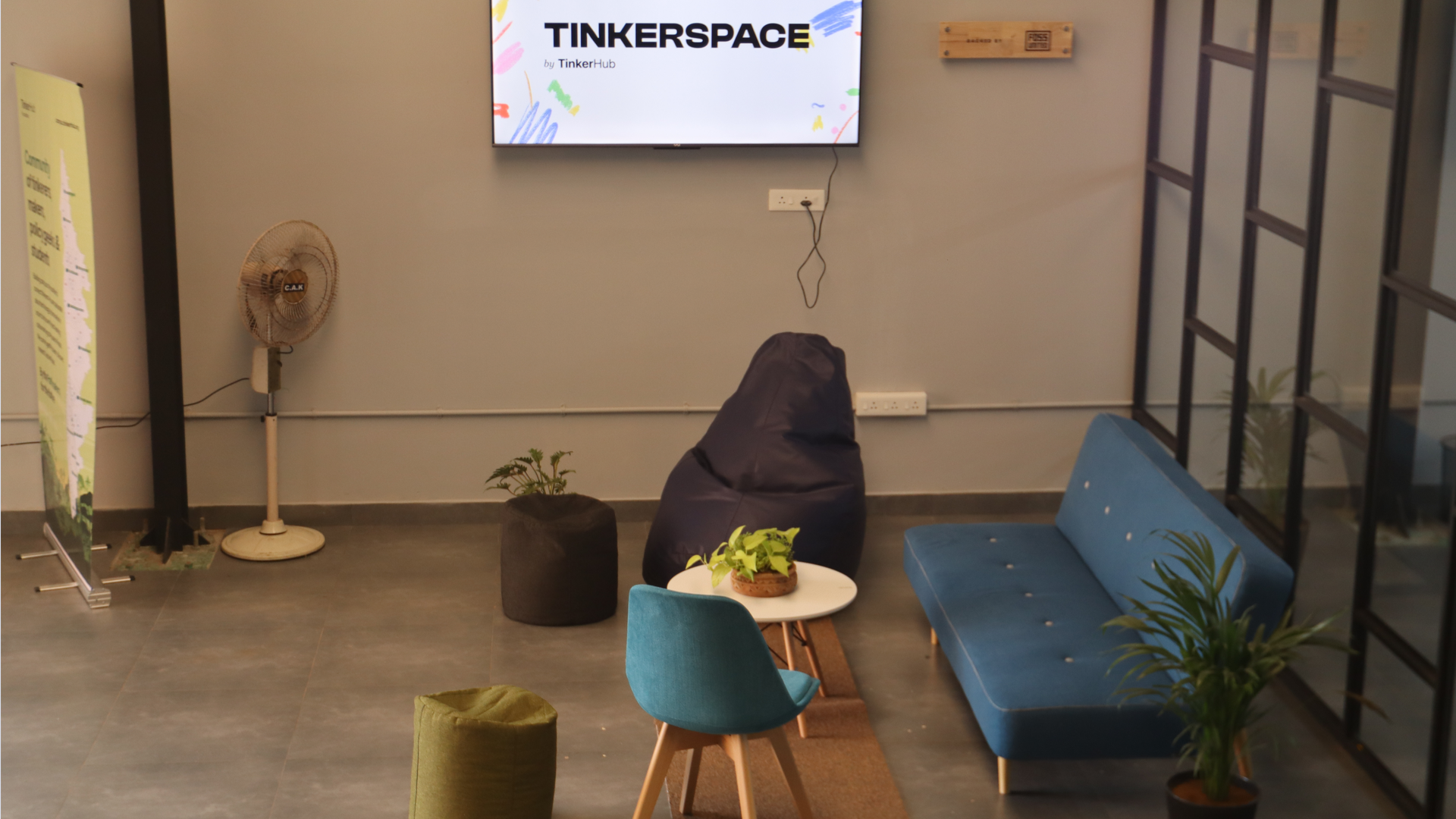 Our Philosophy
is inclusive and holistic learning by shifting the trend from classroom learning to peer-to-peer learning, mentor-peer learning, innovative models like learning stations, and building organic leadership among others. TinkerSpace is open 24*7, seven days a week with access to wi-fi, central air-conditioning, high-speed internet and the latest audio-visual aid. Apart from being open to everyone to sit and collaborate on projects, we organise events like hackathons, offline boot camps and many other activities.

TinkerSpace is one of the most ambitious projects we have undertaken at the THF. We invite all the technology enthusiasts passionate about learning, sharing and collaborating! TinkerSpace is
Inclusive, vibrant and eclectic.
An ecosystem where anyone can make meaningful connections and promote digital awareness
We host students from colleges, professionals, experts and anyone with a passion for technology.
Free to access
We welcome you to be a part of our close-knit TinkerSpace donor collective.
You can be a patron of this space!
by supporting us through a wide range of plans we have set out for YOU.
| | Learner Contributor | Community Contributor | TinkerHub Believer | Patron | Startup Partner Company |
| --- | --- | --- | --- | --- | --- |
| Monthly email updates | ✓ | ✓ | ✓ | ✓ | ✓ |
| Welcome Letter & Stickers | ✓ | ✓ | ✓ | ✓ | ✓ |
| Surprise Hamper | | ✓ | ✓ | ✓ | ✓ |
| Foundation Day Invite | | ✓ | ✓ | ✓ | ✓ |
| Showcase at Space | | | ✓ | ✓ | ✓ |
| Quarterly donors call with TH leadership | | | ✓ | ✓ | ✓ |
| Donor Plaque | | | | ✓ | ✓ |
| Priority Access to HireHack | | | | ✓ | ✓ |
| Social Media Showcase | | | | | ✓ |
| Monthly Subscription | ₹500 | ₹1,250 | ₹2,250 | ₹5,000 | ₹10,000 |
We will be sending you monthly email updates about TinkerSpace and foundation activities. You would be able to access major highlights from the previous month and activities planned for the coming month.

Monthly email updates 📧👨🏼‍💻

We will do a shoutout to the community through social media about the company supporting TH activities. We have an online community of over 26K members and counting!

Social Media Showcase 🤳🏽🎥🎙

We want you to showcase this at your office or home, letting everyone know that you are part of a change- maker group and maybe influence more people towards showcasing our activities.

Donor Plaque 🏆
When you are trying to hire, we surely will put a good name to people we know about the company culture and founders. We will put our best efforts to get you the best talents.

Priority Access to HireHack🤝🏻🥇

We welcome you to be a part of our close-knit TinkerSpace donor collective

Be a Patron

We will be doing a quarterly call with all major donors, discussing the present and future activities. This would be one way to have a closer look and give your suggestions to the team. All believers, patrons and our TinkerHub supporters are encouraged to join here!

Quarterly donors call with TH leadership📞💑
Our audio-visual modes at our TinkerHub space are frequently visited by an average of 100 people per week. We will showcase people who believe in and contribute to TinkerHub there.

Showcase at Space 🤴🏽👸🏽

We will be doing an annual conclave to honour all the people who put efforts into building TinkerHub pace, this will be a highly curated - invite-only event.

Foundation Day Invite 💌🪩

We are sure you will be surprised about this, wait for that courier to come!

Surprise Hamper🤹🏼🎁

We wanted to let you know how much we appreciate your financial support to TinkerHub and as a gesture we will be sending a welcome letter and laptop stickers.

Welcome, Letter & Stickers 💟 🎀